A large majority of the Michiganders I know want to move as far south as they can as soon as they graduate from school or retire from their jobs. Sometimes during the cold seasons (which encompass the majority of the year in Michigan) I too have noticed myself growing more and more eager to leave this place I have always called home. Tack on the wanderlust I've had since I was a little girl and some days I'm ready to pack up and begin traveling the world without a second glance.
But as I've gotten older, I have also grown to appreciate Michigan for everything it offers.
Recently, I started thinking about all the places I want to go to and day trips I want to take with my friends and as I started researching, the list of things that peaked my interest grew so long that I've now compiled my own Michigan bucket list! So today I want to share with you my Michigan bucket list, but to start off,
here are some amazing things I can already check off thanks to my in-state travels while growing up:
1. Boat along Picture Rocks in Munising.
2. See the beautiful Tahquamenon Falls.
3. Touch a shipwreck at the bottom of Lake Superior
4. Pier jump in Grand Haven
5. Transport yourself to the Caribbean at Glen Lake. Honestly, folks, the lake water is the clearest and bluest I've ever seen, following the Caribbean Sea. It's plain ol' beautiful.
6. Bike around Mackinac Island.
8. Climb the Sleeping Bear Dunes and 9. catch a sunset over Lake Michigan. This the most beautiful sunset I've ever captured on camera.
10. Explore the largest German settlement in the United States: Frankenmuth, MI.
11. And while you're there, eat a full course at the Bavarian Inn and Zehnder's!
12. And shop at Bronner's, the world's largest Christmas store.

13. Climb the Silver Lake Sand Dunes until you reach Lake Michigan. I'm warning you now: you'll feel like you're at the Sahara Desert. Bring a water bottle and shoes (so the sand doesn't burn your feet!)
14. Go apple picking at one of Michigan's many apple orchards. The one I went to happened to be my grandpa's. ;)


15. Go camping. There are so many state parks there is no excuse not to go camping in Michigan!


16. Lay on the rotunda floor of the Capitol Building in Lansing. Fourth grade field trip boo-yah!
17. Climb the waterfalls of Munising. In retrospect, I'm pretty sure there are signs telling you not to do this, but everyone does.
18. Visit one of Michigan's many zoos. I have been to two, the big one being the Detroit Zoo.

19. Snowmobile. You can't live in Michigan during the winter and NOT snowmobile at least once.
20. Enjoy a day of fun at the "two parks for the price of one" Michigan's Adventure Amusement Park.
21. Rent a cottage/cabin "up north" in the summer. There are very few things better than spending summer on a Michigan lake.
22.
Watch the Battle Creek Field of Flight Air Show & Balloon Festival.
23. Traverse the dunes of Saugatuck on dune buggies.
24. Take a look at the history of cars and other technological advances at the Henry Ford Museum.
25. See the grand ledges of Grand Ledge.
26. Educate thy self at the Great Lakes Shipwreck Museum in Whitefish Point.

27. Experience every river adventure possible. Canoeing, kayaking, tubing, and white water rafting opportunities are everywhere and my personal favorite activities!
28. Experience every lake adventure possible. Boating, tubing, water skiing, surfing, paddle boarding, sailing, jet skiing.
I have half of this last goal completed (I haven't successfully stood on water skis, nor have I ever surfed, paddled, or sailed) which is why I have it as the last bullet before I cover the things I've yet to do and see and want to do someday...

29. Participate in a Polar Bear Plunge. For those who don't know, this is a fundraiser for Special Olympics where people strip down and jump into the lakes during the winter. Sounds fun, right?


30. Camp at the Headlands International Dark Sky Park. It's one of six dark sky parks in the U.S.; one of ten in the entire world! I LOVE THE STARS SO MUCH.


31. See the Leland Ice Caves.
Photo credit: Nicole Wamsley | Flickr
32. Road trip around the LP's coast.
33. Swim in all five Great Lakes. So far I've swam in Michigan, Superior, and Huron (which leaves Erie and Ontario left).
34.
Walk along the Ice Curtains of Grand Island.
35. Go to all five national forests. Whether it be through camping, hiking, or sightseeing, there five national forests within Michigan that preserve its natural beauty.
36. Attend a football game at the Big House or Spartan Stadium. I'm not a huge football fan so it doesn't matter which of the rivals I go to but I feel like I should experience one D1 NCAA game.
37.
Explore Tulip Time and Dutch history in Holland.
38. Spend the night on a beach.
39.
Go to Holly, MI and 40. Attend the Michigan Renaissance Festival. Because why wouldn't I want to go to a town named after me and dress up like I'm from a different century?
41.
See a musical/stage performance in one or more of these great venues: Detroit Opera House, Royal Oak Music Theatre, Fox Theatre, Masonic Temple, or St. Andrew's Hall.
42. Go to the Zehnder's Snowfest in Frankenmuth. This is an ice and snow sculpture festival that I've missed every year but one of these days...
43. Take on the challenge of of traveling the Shore-to-Shore trail. A 220-mile long trail that stretches from Empire on Lake Michigan to Oscoda on Lake Huron. It's open to horseback riders and hikers only.
44. Go wine tasting at one of Michigan's many vineyards: Kalamazoo, Grand Haven, Traverse City... they're everywhere!
46. Experience the fun of the Coast Guard Festival in Grand Haven.
47. Drive around Leelanau Peninsula.
48. Climb a lighthouse. Most lighthouses are closed to public access now for safety and preservation, but there's still a few out there that allow visitors in!
49. Make it to both ends of the earth and back - Paradise, MI and Hell, MI.
50.
Frolic through a sunflower field.
51. Go to Belle Isle and Isle Royale. Michigan has dozens of little islands and these are two of the most popular.
52.
Attend the Cherry Festival in Traverse City. This is before the streets are flooded by thousands of people.
53.
Visit the National Holocaust Memorial Center in Farmington Hills.
54.
Make it one of each major league Detroit games: Lions, Tigers, Red Wings, Pistons.
55. Cliff jump in Marquette. My friend goes to school at Northern and they do this at their college orientation! Come on!
56.
Go to a car show/car race. One of my uncles is a VW Bug fanatic and I would love to go to one of his car shows or races some day!
57. Dog sled in the U.P. I didn't even know this was something Michigan offered until I looked I came across it on Pure Michigan. I don't even need to go to Alaska to dog sled? How cool is that?
58. Ice skate at Campus Martius during Christmas time.
59. Visit Hitsville USA.
60.
Venture Boyne Mountain.
61. Hunt the shores of Petoskey for Petoskey stones.
Photo credit: Nicole Wamsley | Flickr
62. Explore Detroit's Riverfront.
63. See the Soo Locks in Sault Ste. Marie.
64. Take a day trip to Torch Lake. This is a hot spot for summer days and it seems like everyone has been here except me. I'll make it there someday!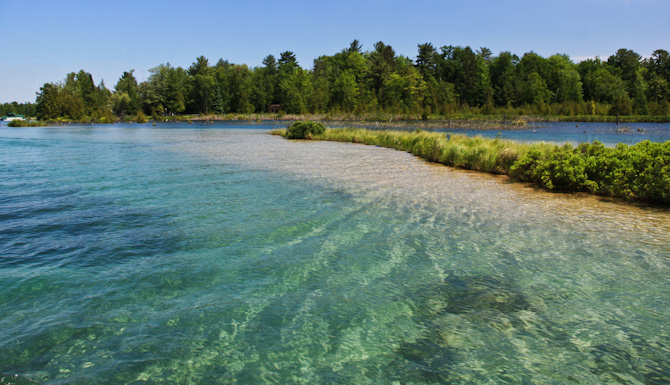 65. Visit Frederik Meijer Gardens & Sculpture Park. I've heard this is slightly overrated but I have to see it because hello, Meijer is amazing.
66. Take a ferry to Mama and Baby Bear a.k.a. North and South Manitou Islands.
67. Electronic Forest Music Festival.
69. Take a peek at what is now known as the Heidelberg Project.
70. Stay at the Big Bay Point Lighthouse Bed & Breakfast. It's the only operational lighthouse and bed & breakfast out there today. There also seems to be some haunted stigma tied to it, which I personally believe means it is a must stay.
I know I'll add more to it in the future, but I think this a long enough list to start off! Do you have a list of things you'd like to do in Michigan? Let me know so we can discuss! :)
Disclaimer: I glanced at some other Michigan bucket lists for inspiration, but this list contains things I personally want to do. Why do I want to do all these things? I don't know. They seem awesome and I like doing awesome stuff. The pictures are either mine, I have been given permission to use from the owner, or I cannot find the proper source.
This bucket list has been Pure Michigan approved. Just kidding, it's really not. But if our Pure Michigan marketing team knew about it, I'm pretty sure they would be all for it.